LOVEVOOK
LOVEVOOK 3 pcs Geometric Luminous Bags Set Holographic Reflective
How to choose beautiful, stylish, high-quality and inexpensive handbags?

We suggest to experience

LOVEVOOK

!
In the past 2020, the number of LOVOVOOK bags we sold in United States has exceeded 1 million, LOVEVOOK is being recognized and praised by more and more Americans!
Made of Holographic Reflective Geometric Luminous material. It got rainbow effect, with color changing.

3 in 1 : Handbag + Crossbody bag + Coin purse

Colorful: There are different colors in different angles,Luminous Geometric Lattice Design Handbags. Shining in the Light.

Skin-like feeling: Soft Leather Handle, unique ornaments, detachable Shoulder strap and top-zipper closure.

Practical: This Geometric Tote comes with large capacity, All stuff can be well organized inside, perfect for everyday companion.

All-match: Suitable for you to carry it in daily-use, such as Shopping, Dating, working, traveling and so on.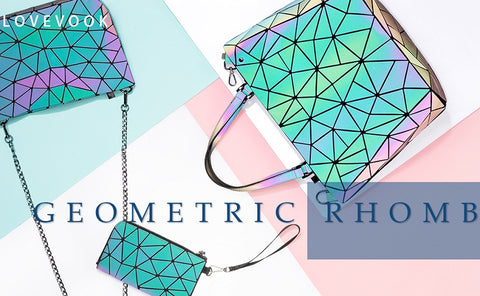 What color is the Geometric Purses ?
Under normal lighting, the color of the bag is almost dark gray and the color is slightly different under different angles of illumination.

When the light changes drastically, the color changes greatly.

Especially at night, when illuminated by lights or flashlights, it will have a good effect.
Model Show —— Geometric Luminous Purses and Handbags
3PCS Set
It is geometric holo handbag sets. Color changes when light hitting, which makes it so special and chic, a trend of fashion.
Shoulder Bag 
The detachable shoulder strap allows you to switch between the handbag and the crossbody bag, making it easier to travel and daily use
Medium Crossbody Bag
The material of the bag is very comfortable and soft. While it won't loose its shape when placed it down.

Main Handbag: 1* Main Pocket; 2* Inner Pockets; 1* Zipper Pocket

Cross-body Bag with Chain Strap: 1* Main Pocket; 1* Zipper Pocket

Wallet: 1* Main Pocket; 3 Card Pockets
When Is It Luminous ?
Try to take a photo with the flash and you will have unexpected surprises.
The Rainbow effect will occur when the light on the bag is stronger than the background light. Here are some examples: 
If you wear this bag in a dark room, sunlight through the window and hit on the bag, the color will change as picture shows.

Rainbow effect occur when the car light hit on the bag in night, wear it in a bar, or take a picture with flash.

 
Note: If you wear it in sunlight, it keeps dark gray and almost no difference in color, because the sunlight is too strong.
Customer Show
Customer show pictures. Real use effects, no filters, no PS.
Try to take a photo with the flash and you will have unexpected surprises.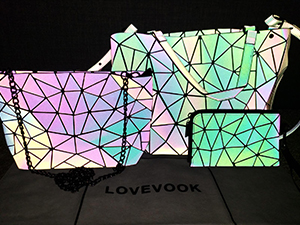 Dark Environment + Flash