How To charge my phone with USB port from Laptop Backpack?
Step 1

Connect the power bank with the port inside the backpack

Step 2

Connect the USB Port outside with your phone

Step 3

Open your power bank and start charging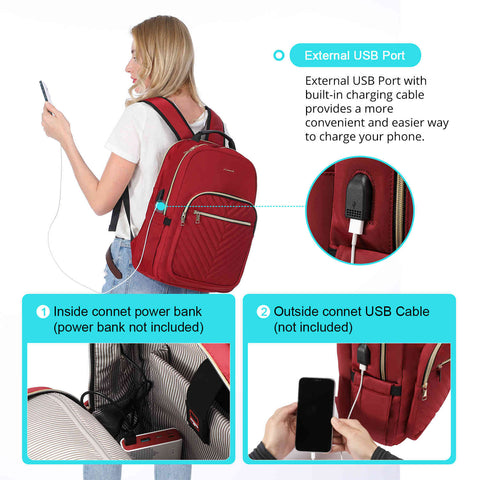 Click to shop backpacks and purses with USB charging port:
LOVEVOOK Laptop Backpack for Women, with USB Port, Fit 15.6inch/14inch/17inch
LOVEVOOK Stylish Quilted Laptop Backpack for Women, Fit 15.6/17inch
LOVEVOOK Diaper Bag Backpack with Changing Station
LOVEVOOK Geometric Luminous Backpack, Fit 15.6" Laptop
LOVEVOOK Lunch Backpack, Insulated Cooler Bag, Fit 15.6 inch Laptop, with Lock
LOVEVOOK Laptop Shoulder Bag for Women, with Crossbody Strap, 15.6 Inch
LOVEVOOK 2Pcs Laptop Bag for Women, Fit 15.6 Inch
1 comment
I purchased this backpack for a motorcoach trip in September 2022, unfortunately purchased through Amazon and the time had passed to return it. I am disappointed with the item as it does not appear to be what I thought. I wasted money on this item very dissatisfied. First time and last time customer not at all what I expected.
Valencia Berner
April 27, 2022
Leave a comment