How To charge my phone with USB port from LOVEVOOK Laptop Backpack?
Step 1

Connect the power bank with the port inside the backpack

Step 2

Connect the USB Port outside with your phone

Step 3

Open your power bank and start charging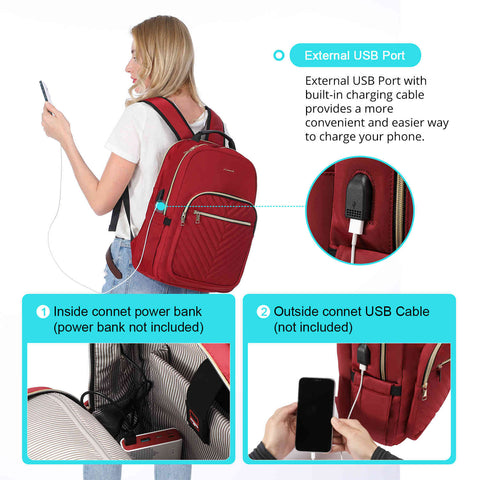 Click Here to shop more backpacks and purses with USB charging port.
5 comments
I was really excited do my backpack and the charger doesn't work I'm disappointed in the person who made the backpack
Samantha Mooney
September 09, 2023
YOU SERIOUSLY NEED A POWER BANK? Paying so much for nothing.
With all the respect in the world, this is a great backpack but stop the cap with yo chargers
I feel the same way as the buyer above. Additionally it is not made for iphones.
You need to work on this part of the bookbag. Disappointed.
Emma Robinson
August 16, 2023
Why. Just why. I WAS REALLY EXCITED FOR THIS BAG, IT CAME AND I TRIED CHARGING MY BAG BY PUTTING THE USB IN A PLUG AND THEN WAITED A WHILE, TRUED CHARGING MY PHONE AND IT DIDNT WORK AO I CAME ON HERE AND IT SAID I NEED A POWERBANK? No point if ur just using a power bank.
Leave a comment