'I forgot my passcode. How can I unlock it?' - For LOVEVOOK Laptop backpack with Lock
Dear customer, this is procedure of how to crack the password.

1. First turn the perforation to the same position
2. Then try to rotate each number at the same time.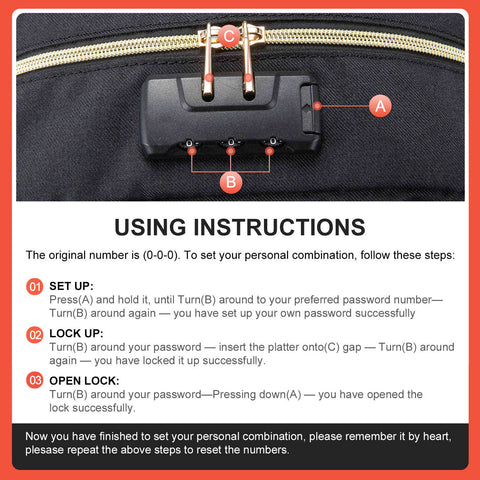 Using laptop backpacks with Fixed Password Lock and an anti-theft pocket gives convenience.
It is safe guaranteed for protecting your valuable items inside. No need to worry theft easily opening your backpack when you are travelling or lining up.
Click to shop LOVEVOOK bags with lock:
LOVEVOOK Anti Theft Backpack with Lock for 15.6/17inch for Men Women
LOVEVOOK Laptop Backpack for Men & Women, with Lock, 15.6 Inch
LOVEVOOK Laptop Backpack for Men, with Lock & USB Charging & Headphone Port, Fit 15.6 Inch
LOVEVOOK Lunch Backpack, Insulated Cooler Bag, Fit 15.6 inch Laptop, with Lock
Leave a comment