How to reset a backpack lock? - For LOVEVOOK Laptop backpack with Lock
Using laptop backpacks with digital password lock and an anti-theft pocket helps a lot, especially when you are traveling. It is safe guaranteed for protecting your valuable items inside, such as laptop, wallet, keys, passport, etc.
Enjoy the wonderful and worry-free trip with LOVEVOOK!
You may need a little bit help if you forget the combination. Luckily, we have attached a little notice card of lock instruction in the backpack, you may find it in the bag, please check it out and try.
And you may check more details from the listing which you ordered from too.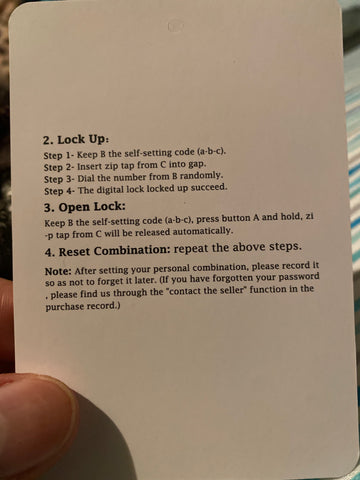 How to use the lock: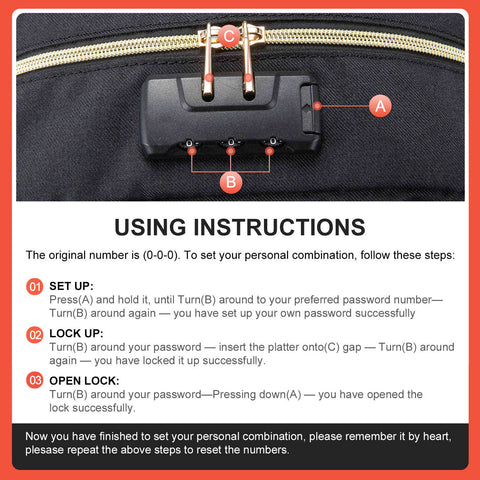 How to reset the code easily:
https://www.facebook.com/watch/?v=1053963158774362&ref=sharing
If there is still any problem, please don't hesitate to contact us via online inbox or email (support@lovevook.com), providing with your order id and problem, we would check and help.
Click to shop more LOVEVOOK bags with lock
LOVEVOOK Double Compartments Laptop Backpack

LOVEVOOK Anti-Theft Backpack for men

LOVEVOOK Insulated Lunch Bag

LOVEVOOK Duffle Bag

LOVEVOOK 2pcs Laptop Backpack, with Toiletry bag
23 comments
Hi I got this backpack for school and I guess someone messed with it when I left to go to the restroom and now I can no longer reset the password and every time I try to search it up i can't find it
PLS HELP!!!!
HOW TO SET YOUR LOCK PASSWORD!
Like many of you, I have had problems setting my passcode on my backpack. Ignore what Lovevook tells you because they don't know how to set their own locks.
Step 1: Set code to default passcode (0-0-0)
Step 2: Press firmly on the very small button/indent near the clips which hold the zippers in the lock.
Step 3: Once the small button is pushed into the lock set your passcode. (The numbers should be harder to move now)
Step 4: Press the unlock button and it should set it to the passcode you have input.
ENJOY!
Andrew Markley
July 30, 2023
Hi,
I recently bought a lovevook backpack, and I love it, but I forgot the code.
How can I reset it?
Thanks so much
ibrahim
My passcode does not work on my new backpack. I can not reset because it does not recognize my passcode I choose. Please help.
I urgently need assistance to unlock my LOVEVOOK backpack .
I purchased the backpack on Amazon last week
Tried to change the lock code and now I cannot open or reset the pin.
I am flying out this week and urgently need to ensure that the back locks
PLEASE CAN YOU GET BACK TO ME URGENTLY
DELEAN MARSHALL
May 22, 2023
I just received my new backpack and was setting a new code. Now It doesn't work. not my new password or the 000 password.
My daughter has the lovelock backpack bought on amazon: LOVEVOOK Laptop Backpack for Women, Travel Anti-theft Bag Business Computer Backpacks Purse College School Student Bookbag, Casual Hiking Daypack with Lock, 15.6 Inch, Light Pink.
It needs washing. How can I safely wash it in washer?
jolly jean
April 02, 2023
I was trying to get a new combo for my bag and I can not do it is there any way you can help me out with the rest of the backpack
Shawn Newton
March 25, 2023
I can't unlock my backpack I know pw but daughter was messing around with it and now it won't ope
My daughter has a backpack lock. One of the students in her class messed with her lock and reset it. We cannot open it. Can you please help me unlock/reset the lock? The book bag was a gift so I do not have any information on the backpack this past Christmas. I do know it was bought off Amazon.
Katie Antcliff
January 22, 2023
I forgot my password how do I reset my lovevook backpack
William Bailey
November 30, 2022
Forgot my code what can I do ??
Yeela Atzmon
November 02, 2022
Set my combination and it all worked for one day. Now it won't lock not even with my passcode.
I can't open my lock. I locked it at the hotel to keep housekeeping out and now my code doesn't work
Hi my backpack didn't come with a code and it is locked how do I set it
Hi my backpack didn't come with a code and it is locked how do I set it
Good evening,
My wife purchased a pack for me and I've lost the passcode to unlock it. I have the information on the pack and would appreciate some help.
Thanks
Richard
Forgot passcode, can you help me so I can lock it again?
Michelle Tombs
July 14, 2022
My bag came without a code. How do I make a new code? Just need to open it first.
Crystal Ramos
July 08, 2022
Locked my backpack lock, but my combination no longer works. How can I unlock it?
Hi,
I recently bought a lovevook backpack and I love it but I forgot the code.
How can I reset it?
Thanks so much
Lynn McLeod
https://youtu.be/P6y2D4h_OJ0
I forgot my password now I can't open it
Leave a comment