We are on today show!
.
In the early 2023, one of the best things of the year has already happened to us! Our LOVEVOOK backpacks are highly recommended on Today Show from NBC!
On Today Show (Mar. 1st, 2023),
LOVEVOOK laptop backpack
was mentioned as one of the best spring break getaway essentials.
.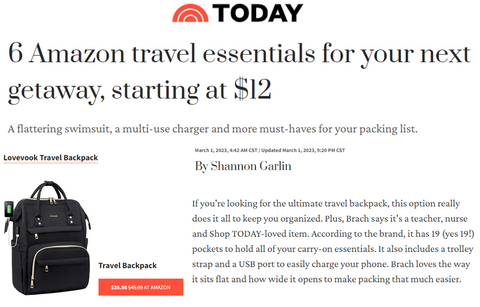 Let's see what editorial director Adrianna Brach loves about our backpack:
.
you know that airlines are charging so much money these days for even carry-ons and of course checked luggage. so the shop today team loves this backpack because it's so roomy, we also read that a lot of nurses and teachers also like this. just like every day for commuters. so even if you are not traveling anywhere this is a really good piece to have. it's got 19 different pockets. and I mean, if you guys could look in here, you guys really did a nice job packing it up, I mean, everything. it also has a USB charger. you could bring your battery pack then have an easy charging situation.
.
and here are more fashion editor Shannon Garlin's compliments about it:
.
If you're looking for the ultimate travel backpack, this option really does it all to keep you organized. Plus, Brach says it's a teacher, nurse and Shop TODAY-loved item. According to the brand, it has 19 (yes 19!) pockets to hold all of your carry-on essentials. It also includes a trolley strap and a USB port to easily charge your phone.
.
We are so honnered to be recommended by Today Show! We can't thank our fans enough.
Leave a comment